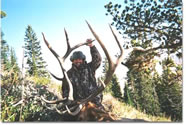 Elk Mountain Ranch permits big game hunts each year for the following species:
Mule deer
Rocky Mountain elk (bulls and cows)
Pronghorn antelope
Bison bulls
The ranch contains over 20,000 acres of wild land, including forested mountain terrain, sagebrush flats and foothills, meandering streams and aspen-covered foothills. Altitudes range from 7,500-ft (2,300M) to 11,156-ft (3,400M) at the top of Elk Mountain. This area has no crossfences, and is not included in the fenced grazing lands where our bison herd lives. The serious hunter is offered complete privacy; while there may be two groups hunting simultaneously, it is unlikely they will see each other during the hunting day. Hunters arrive at the ranch the afternoon before their hunt begins and stay in our lodge facility. The lodge has three 2-person rooms, one 4-person room, and three separate bathrooms with showers. There is a laundry facility as well.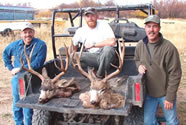 Hunters enjoy conversation and camaraderie in a luxurious trophy room furnished with a wet bar, wood stove, desk with fax and telephone, television with VCR, and outside deck for lounging. Hot soup or chili is always available at the bar, and nuts, candies and granola bars are plentiful for the quick snack. Coffee is always hot. Meals are served ranch style, with guides and clients dining together. Lunches are prepared to order and are usually taken out to the field. Special dietary requests can be accommodated if needed.
The hunt style is rigorous. Guides and hunters travel to hunt areas via multi-passenger UTV's. Hunting is then done on foot, allowing the guide and hunters to access the canyons and timbered areas of the mountain for their hunt. There is a walk-in cooler and game can be transported to a local butcher for processing. Taxidermy services are available in Saratoga, Laramie and Rawlins, all within an hour's drive of the ranch.
Mule Deer: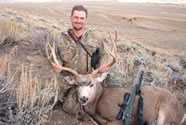 The genetics of Elk Mountain mule deer have produced many fine trophies over the years. By limiting the hunting pressure on the ranch, bucks scoring 180 B&C and above are not uncommon. Eastman's Journal estimated the antlers of the famed "Hornbeck buck" measured close to 40 inches. This buck lived and died of old age on Elk Mountain Ranch, leaving behind a pool of trophy genes. We maintain a 4-point or better rule when harvesting our mule deer, with a goal of taking only the older age-class animals. Only 6-8 deer hunts are allowed each season, providing for a quality hunting experience.
Bull Elk: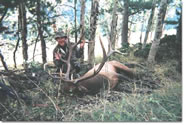 Quality of the elk herd on Elk Mountain Ranch is the best it's ever been. Recent surveys on the winter ranges have shown tremendous growth in both herd size (950 animals) and mature bulls. Bull to cow ratios are approaching 40:100, providing our hunters with ample opportunity to harvest trophy-class animals. Many bulls are reaching the 320-360 B&C class because of our extensive management program. Only 14 bulls per season are harvested on Elk Mountain Ranch. This gives each and every one of our hunters an excellent chance to harvest that trophy of a lifetime!
Cow Elk:
As part of our elk management program, we encourage the hunting of cow elk to improve our bull-cow ratio. These hunts are conducted following the bull season, either as single or multiple day hunts.
Antelope:
Carbon County, Wyoming has always been known for its antelope populations. Elk Mountain Ranch is home to many of these fine creatures. An antelope hunt is usually a one- or-two day affair, with many of our clients scheduling an antelope hunt in combination with another big game species hunt. The quality of bucks in our area is generally good, as many fine trophies are taken each season.
BISON BULLS (Buffalo):
These North American natives, some retiring as herd sires, make interesting and unique trophies. Hides, after tanning, can approach 50-square feet and can be made into robes, rugs, blanket throws and so on. Big bulls can weigh over 2,000 lbs and provide the tenderest of all tenderloins and a plentiful supply of healthy, lean ground bison meat (about 55% of live weight converts to meat products such as jerky, sausage, patties, etc.). These hunts can be scheduled in conjunction with regulated big game hunts or on their own. NO LICENSE IS REQUIRED TO HUNT THIS ANIMAL.
Click here for Hunting Pricing.
Box 74, Elk Mountain, Wyoming 82324
phone: 307-348-7440 | fax:307-348-7447
recreation@elkmountain.com