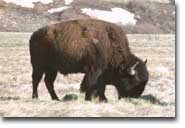 Founded in 1866, Elk Mountain Ranch combines the oldest water rights in Wyoming with some of the finest native grasses in the Laramie Plain to produce a commercial herd of outstanding buffalo, the largest living mammal native to North America. Ancient buffalo (bison) horns and skulls have been found buried on the ranchlands and archeologists from the University of Wyoming confirm that this is evidence that the huge historic herds of bison used to roam these very lands.
This ranch is a prime example of "Wild Spaces, Working Places," The Nature Conservancy's motto for ranches that continue operating in their agricultural legacies, yet work to combine their profit goal with high regard for and preservation of the natural order of their ecosystems. For these reasons, the ranch supplements its traditional agricultural revenues by conducting limited big game hunts, trout fishing on its lakes and nearby rivers, and receives small corporate groups interested in the privacy the ranch can offer.
In 1998, Elk Mountain Ranch imposed a conservation easement on its lands, thus assuring for posterity that these notions of careful land stewardship will be observed and continued.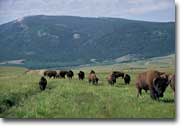 The restrictions imposed by the conservation easement do not interfere unduly with grazing of the hundreds of bison (buffalo). The animals and the lands they occupy are carefully managed to mimic the historic grazing patterns of their ancestral herds of thousands. It is believed that those herds caused severe grazing, trampling ("herd effect") and fertilizing, but did not return for extended periods of time, thus providing ample "rest periods" for the lands and flora. In this fashion evolved both the bison and the Great Plains over eons.
Our pasture rotation program depends on the amount of rainfall in each different grazing area and the rainfall is monitored by 18-different rain gauges. Management adjusts grazing to differences in the amounts of forage available and assures that ample forage is left behind in wildlife migratory areas. Repeat grazing visits to specific areas depend on whether sufficient "rest" has been provided each area. Electric fences of only two- and three-wires control the buffalo and provide easy and safe passage for wildlife.
The predominant root stock of the Elk Mountain Ranch buffalo/bison herd is from the Durham Ranch in northeast Wyoming. Durham Ranch is one of the oldest buffalo operations in North America and some of its gene pool comes from the few bison saved by Montana ranchers in the 1890's. These genes are mixed with those from the Custer State Park bulls and others, as appropriate to provide new genes from different geographic areas.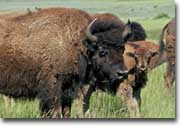 The female calves born each year grow up to become breeding stock in our herd and others, and the bull calves are raised elsewhere for eventual slaughter for meat and other products. None of our animals is given growth hormones or any subtherapeutic antibiotics; our goal is to raise them as naturally as possible. The animals that are destined for slaughter do not go to traditional confinement feedlots; they gain weight in areas where there is always sodded ground and naturally occurring vegetation.
Inquiries about our bison operation may be emailed to office1@elkmountain.com.
Box 74, Elk Mountain, Wyoming 82324
phone: 307-348-7440 | fax:307-348-7447
office1@elkmountain.com