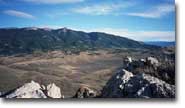 Come out to the old hunting grounds of Chief Morning Star of the Northern Cheyenne, where Butch Cassidy raised hell, where the deer and the antelope play and the buffalo roam; leave behind the crowds, the cars, the confusion and the cares of urban life. Spend some time in the truly wide-open spaces of Wyoming.
We invite you to join us on our ranch, an area of more than 50-square miles that The Nature Conservancy calls, "a national park quality landscape." Our elevations range from 7,500 ft (2,300 M) at headquarters up to 11,156 ft (3,400 M) at the summit of Elk Mountain. In this area you'll find hot and dusty sagebrush flats, cool aspen forests, lush haymeadows, shady pine forests, moist spruce canyons and the closest thing to alpine tundra south of Anchorage.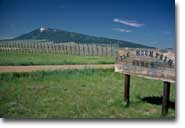 Take one of our open-air ranch vehicles (easy to drive) and go exploring, or a ranchhand will give you a tour. After you know your way around, take a ranch mountain bike and a picnic lunch to your favorite spot. Spend a little stress-free time birdwatching the bald and golden eagles, prairie and peregrine falcons, Swainson's and redtailed hawks; maybe you'll catch a northern harrier swooping down on an unsuspecting prairie dog or gopher.
Challenge your patience at finding some of the Rocky Mountain elk that live here, or the mule deer and pronghorn antelope. Watch our herd of buffalo care for their newborn calves as they watch you watching them. Go exploring for arrowheads or visit the memorial where desperado Big Nose George Parrott shot two deputy sheriffs right on the ranch in August of 1878.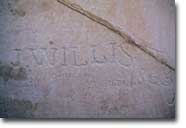 See the stone carvings of the U. S. Cavalry soldiers stationed at historic Fort Halleck (1862-1866) or the firewood they chopped for the wood-burning steam engines of the Union Pacific trains of the transcontinental railroad. Watch ranchhands as they move the buffalo from one pasture to another or watch a cowboy gather up wandering cows.
Go on a hike up the mountain and watch a horselogger with his big draft horses haul logs through the forest, or spend a day trying to catch a brown trout that weighs more than six pounds. Explore the old log cabins built by the pioneers and see the remnants of the Overland Trail as it passed through what is now Elk Mountain Ranch.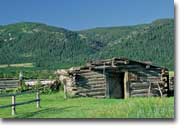 Corporate or family groups are welcomed guests at Elk Mountain Ranch. Customize your trip as you like. We will accept only one such group at a time. Guests stay in our comfortable lodge with modern bath facilities and dine in our ranch cookhouse. Transportation to/from the Laramie airport can be provided.
Join us. Your group will be the only guests here and we'll treat you like family. You can play all the time or we'll put you to work, if you like. Better yet, just hang around and relax; we've got over 50-square miles of Wyoming waiting for you. Call us at 307-348-7440 or send an email to recreation@elkmountain.com with your questions.