If flyfishing is your pleasure, Elk Mountain Ranch offers flyfishing vacation packages throughout the summer. Rainbow, cutthroat, brook, and German brown trout abound in the numerous stillwater fisheries on the ranch. Whether it's casting to the rise from a belly boat or stalking the elusive lunker from the banks, stillwater flyfishing can reap great rewards!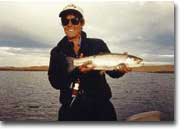 The nearby "blue-ribbon" waters of the North Platte River invite the avid flyfisherman to try his or her hand at catching its many trout. There's nothing quite like a day of drift boat fishing on the river. Lazy river, casting long lines, big fish.

If you're searching for peace and solitude, we have plenty of it at Elk Mountain Ranch. Quiet, comfortable, private rooms accentuate the beautiful log trophy room. After a long day of fishing you can relax by the wood stove, enjoy the sunset, or tie up the hot fly for tomorrow's adventure.

Hearty meals are prepared and served ranch style. Guests and guides dine together, allowing for many fish tales to dominate the conversation! Lunches made to order taste even better during a break in your fishing day.

Come join us at Elk Mountain Ranch. We'll do our best to make your vacation an enjoyable experience!

Flyfishing Vacation Packages
3-day/4 night, or 4 day/5 night packages are available. Fishermen/women arrive at the ranch the afternoon before their vacation begins and stay in our lodge facility. The lodge has three private rooms with twin beds, each with its own private bath, and one larger room with private bath that sleeps four people. There is a laundry facility as well.
Participants enjoy their own private trophy room furnished with a wet bar, wood stove, desk with fax and telephone, television with VCR, and outside deck for lounging. Hot soup or chili is always available at the bar, and nuts, candies and granola bars are plentiful for the quick snack. Coffee is always hot. Lunches are prepared to order and are usually taken out to the field. Special dietary requests can be arranged if needed.

Single-day Flyfishing Trips
Stillwater or freestone fishing, shore lunch included.

Custom vacation packages can be arranged to fit your schedules. For more information, including availability of reservations, call us at 307-348-7440 or e-mail us at recreation@elkmountain.com.
Box 74, Elk Mountain, Wyoming 82324
phone: 307-348-7440 | fax:307-348-7447
recreation@elkmountain.com